STOBA PH EXECUTIVE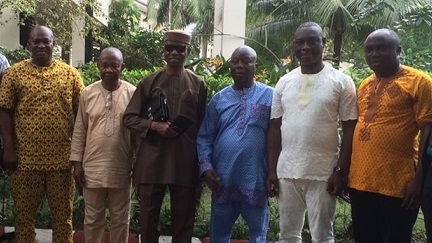 Sunday, 6th November 2016 will remain a special day in the anals of history of STOBA PORT HARCOURT and indeed the larger STOBA. It was the Annual General Meeting of STOBA PH; a gathering of old boys numbering over 40 members domiciled in Port Harcourt, the oil-rich capital city of Rivers State. And so, STOBA PH proudly parades in its membership as well as leadership, old boys who are counted amongst key players in both the upstream and downstream sectors of the oil industry in Nigeria. So, it was, expectedly, an array of men at the Port Harcourt home of Dr Theophilus Osanakpo, SAN, host of the AGM that was attended by over 40 old boys of our alma mata. The atmosphere was both convivial and eclectic particularly with the 'older boys' who were on hand to share experience from their gray hairs and avail us the benefits of their vast knowledge of contemporary issues of the day. Dr Osanakpo intermittently regaled members with his sweet-sounding Queen's English to the utmost admiration of younger old boys.
Highpoint of the meeting was election of new officers to take over management of the association from the very distinguished Arc. Boni Agu and his dedicated team of officers that had piloted the affairs of the old boys in Port Harcourt meritoriously for a number of years now. Arc Agu, in his usual humorous nature, had announced in the penultimate meeting that "he was retiring, though not tired". The election was largely peaceful and well coordinated, courtesy of Dr Osanakpo himself who was the " Returning Officer" for the elections. For a start, Engr Tony Offor (his mates call him "squiller") of the class of 1976 was elected president (unopposed).

Find in the photo posted the names of other officers (and their portfolios) who were elected to drive STOBA PH to the next level.

From left, Chukwudiogo Onah(Ass.Gen Secretary),
Godfrey Okonkwo Agbo(General Secretary), Ken Anayo Uzoka(Vice President), Tony Offor(President), Boni Agu(Out-gone President), Sebs Egenti(Fin-Sec), Chukwudi Ezugwu(Treasurer), Chidi Odo(Social Welfare Officer) and Annointed Anigbo(PROVOST).

They are on oath to serve STOBA PH with their best.

Bonum Eligere!!!
" " " "