GBURUGBURU COMES HOME!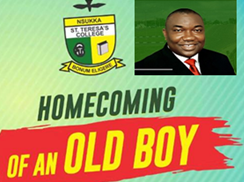 The St Teresa's Old Boys Association (STOBA) in conjunction with the St Teresa's College, Nsukka, heartily welcome one of our own: His Excellency Rt. Hon. Dr Ifeanyi Ugwuanyi, the Governor of Enugu State, to his Alma Mater on Saturday, the 28th April, 2018 by 10am at the School Field. The association and the school are happy to welcome him as he visits his home again.
They are calling on the Old Boys and the general public to join in receiving this great lover of education and driver of infrastructural renewal that is going on in Enugu State today. The Association is not in doubt of the Governor's ability to deliver because he carries in him the spirit of STOBA and training and discipline imbibed from the school in the '70s and early '80s.
For the Old boys, is going to be historical and a moment to share old thoughts and for the students is going to be a strong encouragement to show them where they can be one day.
The Asssociation is proud of his achievements recorded within a short period of time and they believe Governor Ugwuanyi is truly a worthy Old Boy of St Teresa's College, Nsukka where the motto is Bonum Eligere(Aiming at the Highest Good).
"Welcome home, our great alumnus, we are glad to host you 'Obr'g...obr'goooo
Obr'g inyig gbum gbum!'"
Meanwhile, Felicitation/Goodwill messages/Advert placements are invited to be included in the brochure for the program.
Further enquiries, contact
Hon Cosmo Agbo
Chairman Sub Committee
Media, Publicity & Protocol
STOBA Planning Committee
08113593525.
"